The Story Behind The-Intimate-Couple.com Website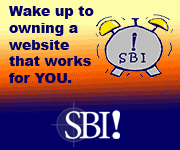 "Start a business on the side? You've got to be kidding! I don't have enough time to do what I'm supposed to be doing now, and you think we should start a business in our spare time? Must I also remind you that we have 9 children!?"
My original reaction to an article my wife read to me back in 2004 was less than inspiring, to be sure. The article was an interview with entrepreneur Dan Miller, and was entitled, "When Your Job Won't Make Ends Meet". The article encouraged readers to start a part-time business even if they could only devote 8 hours per week to it!
Let me paint a picture of our family situation: I am the Senior Pastor of a church; my wife is my assistant and the Office Manager. We have 9 children ranging from a 29 year old singer/songwriter daughter to her precocious 13 year old sister--with 7 wonderful young men in between: the makings of an awesome baseball team. Believe me when I say--I know busy! We experience the frenetic lifestyle, the bulging schedules that accompany a large family, the many demands of leading a church, and what seems like never enough money to remain out of debt.
My wife and I thought about that article for more than six months: we prayed, dreamed, thought some more, prayed some more and then decided to go full speed ahead and launch an e-based business making downloadable resources available for parents, educators, and churches. We even chose a name for our website: www.valuesdriven.net!

Daring to Dream!
The benefits of daring to dream began when we broke out of the restrictive mindset of our limited experience. We asked God for more insight, more influence, and more success than we had previously dared to ask.
We had wonderful friends and family helping us with the technical and graphic aspects of that website as we prepared content and items to sell from the website. Time moved on and money was spent. We signed up for web hosting, merchant accounts, business bank accounts, and opened a postal mailbox. All of these had monthly service charges totaling well over $100 per month! Meanwhile, we still were far from having a live website up on the internet!

Discovering Site Build It!
As we delved further into trying to make www.valuesdriven.net a reality, we decided to simplify the website design by registering with a company that would offer a template for us to use… another monthly fee. Perhaps this would enable us to speed up the whole process. As Carrie researched for an online company that offered an all-in-one easy website builder, she stumbled across Site Build It! After watching Ken Evoy's introductory message, Site Build It's! video tour, as well as researching SBI further, we were convinced that SBI's approach to online e-business made an awful lot of sense.
What had we been thinking? To make a cute little website, offer downloadable resources, and expect to have people rushing to buy from our website? How did we expect customers to find us? SBI was offering all the tools we would need to make sure that online folks would find us, and at a fraction of the cost we were already paying !
We were almost convinced that SBI was the way to go, but had a few questions. We emailed SBI with our list of questions and were surprisingly pleased how quickly we were sent an informative and personal email reply from a successful SBIer. Some of those answers confirmed that we could cancel our merchant accounts, not bother renewing the web hosting, close the bank accounts, and close the postal mailbox. At this point in time, we had already invested over $1,000!

We Partner with Site Build It!
Within a few days of getting that email reply from SBI, we made the decision to sign up with SBI and on March 1, 2007 we purchased our first year's subscription to Site Build It! We won't say it's always been easy, especially because we could only devote 1 day per week (at the most) to working through the steps that SBI outlined for us.
But we've learned so much! The first 6 months of our membership taught us that our website idea for www.valuesdriven.net would never be as profitable as we had hoped. SBI helped us decide a new topic for our website…a theme that would prove to be profitable for us.

The-Intimate-Couple Website is Launched!
In September 2007, we registered our domain name www.the-intimate-couple.com and the website became live!
We are not computer technicians or website designers, but that's okay! SBI takes us step by step through our website development and offers tools that simplify the process for us.
We'd love to build our website more quickly, but remember, it is only a "spare-time project". We've written 20 pages in four months (it's now January 2008). Last week, we were so excited to discover that one of our pages was ranked 7th place in a Google Search. This is directly a result of our applying SBI's approach to building web pages so that they meet search engine criteria.
The number of unique visitors to our website grows each month. Our pages are being ranked by the major search engines (they know we're out there!). There are other positive results after only 20 pages! We're determined to continue the SBI journey!
January 2010 Update! Although we are still devoting only one day a week to our website, we have seen our page numbers climb to 170, with more than 800 unique visitors to our site each day! To date, of the more than 150 million websites in the world, The Intimate Couple ranks in the top ½ percent (under 750,000 ranking). Also, any Google search for "Intimate Couple" will find our site as #1! In addition, we have published two e-books, received over 1700 completed online surveys, answered numerous online questions submitted, and publish a bi-monthly e-zine with a readership of close to 1,000.
September 2012 Update! It's been five years since we launched our site and although we are still devoting no more than one day a week to our website, we have seen our site grow, with more than 2,000 unique visitors to our site each day! In addition, we have published seven e-books, received over 7,000 completed online surveys, answered numerous online questions submitted, and publish a bi-monthly e-zine with a readership of over 1,400. We've recently expanded to add another website to our family of sites: The Romantic Couple.com.

Benefits We've Enjoyed Since Working With Site Build It!
In retrospect, we can see several benefits in starting our business:
The first was a change in our thinking: we started to think more like entrepreneurs! This type of thinking has increased our effectiveness in other areas of life. We are learning to think and dream outside the box.
Working on our website is an excellent distraction for us (sometimes it's difficult to separate our personal life from our work).
The nature of our website's topic has raised our own marriage to another level as we intentionally research, seriously discuss, and discover ways to improve our intimate relationship.
Even if it were only these benefits that we might ever receive from partnering with SBI, we'd benefit enough. But we are confident that following SBI's plan will prove financially profitable as well!

What About You?
Our encouragement to you is… allow yourself to dream! Do your research... including checking out Site Build It! We believe SBI is the best tool for what you need to make a successful small business website!



What are you waiting for? Click here to view a very short video from Site Build It! and to get more information. Take a few extra minutes to watch video clips of successful SBI! users...regular folks just like you and I!

Return to Home Page from How We Built This Site